I almost forgot to take pictures before I sent this package out. I remembered when I got to the post office and whipped out my phone before I could mail out the box.

So, I made four things for HappieHina. When we were exchanging messages before we started crafting she told me that she liked the black moon sisters, more specifically Catsy (Kōan), and she liked the cat family (Artemis, Luna, and Diana). She also mentioned that she had a small child...so I came up with these!
First off, here's a reference picture for Catsy:


I like Catsy as well, but with a small child around I figured whatever I made would have to be safe. The plushie I made has no removable parts like buttons or gems (which is why Catsy-plushie is missing the gem on her forhead) and the facial features are painted on.


I like how she turned out. The main body is made out of pink and flesh-tone flannel, the pinstripes on the pink fabric were sewn on before the pieces were cut out for the doll, and the tutu and arm poofs are purple tulle...I hate tulle. But! I managed to sew the tulle down well enough that I don't think it'll ever come off. =D

The next thing that I thought of was a set of string dolls. String dolls aren't hard to make, just time consuming. I actually got the tutorial from here.
Here's a reference picture for the family in the manga: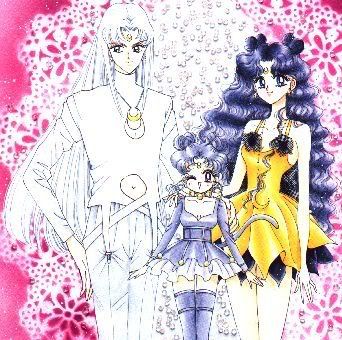 Here's the group picture.


Then the single shots. From left to right; Artemis, Diana, and Luna.



All in all, I had a really fun time making these...and I just love anything Sailor Moon related!